The warehouse and parking site at 4141 Lougheed Hwy. where a new development is proposed in Burnaby. By Google Maps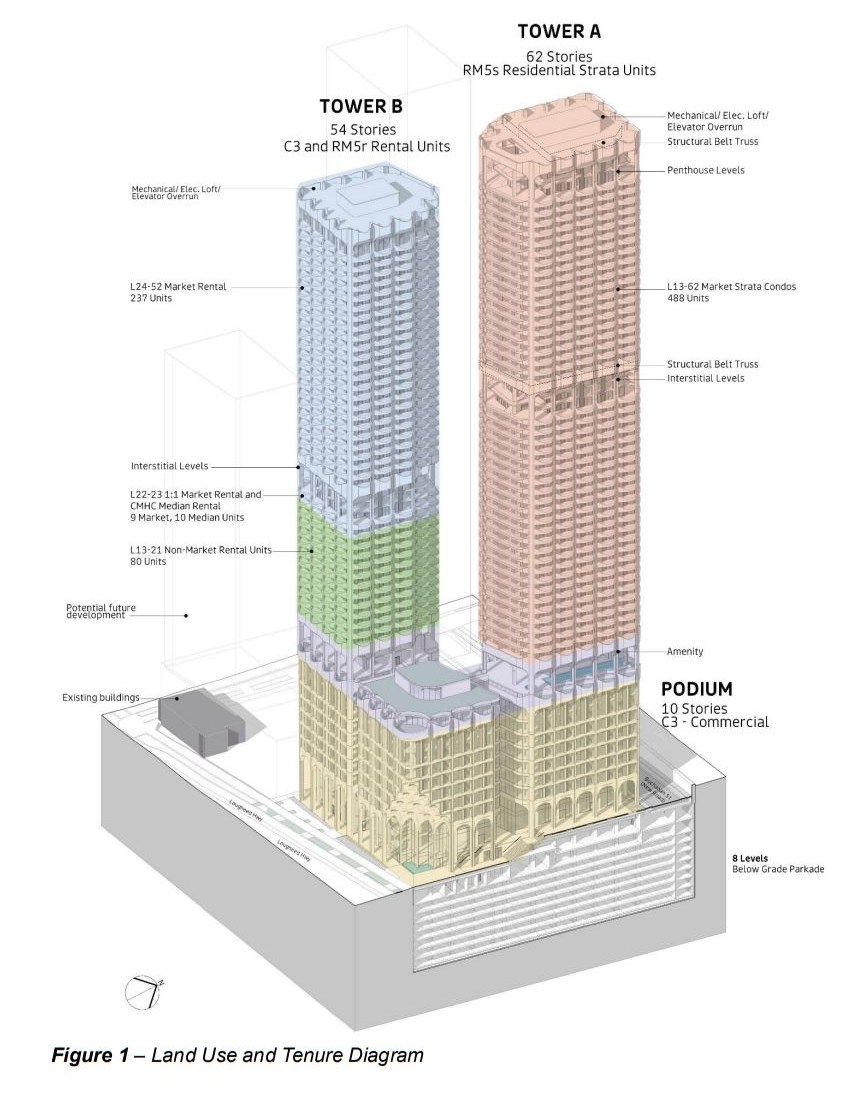 Brentwood is poised to get two more highrise towers up to 62 storeys tall – with a hotel.
Millennium Properties Ltd. is proposing a 62-storey residential strata building and a 54-storey market and non-market rental building above a podium with a 280-room hotel and ground-oriented retail, according to a new staff report.
The project at 4141 Lougheed Hwy. would have the flexibility to allow the commercial podium to be used for offices or other employment "should the hotel market soften in the future."
The project would include a total of 824 new homes, made up of 488 market strata units, 246 market rental units, 80 non-market rentals rented at 20 per cent below the Canada Mortgage and Housing Corp.'s median rate and 10 non-market rental units at CMHC median rents.
The development is the first to come forward as part of the recently approved Buchanan West master plan.
It's planned to include a publicly accessible north-south pedestrian connection and a new east-west local street on the north side of the property. The street would connect Gilmore Avenue to Buchanan Street when the block is fully redeveloped, according to the report.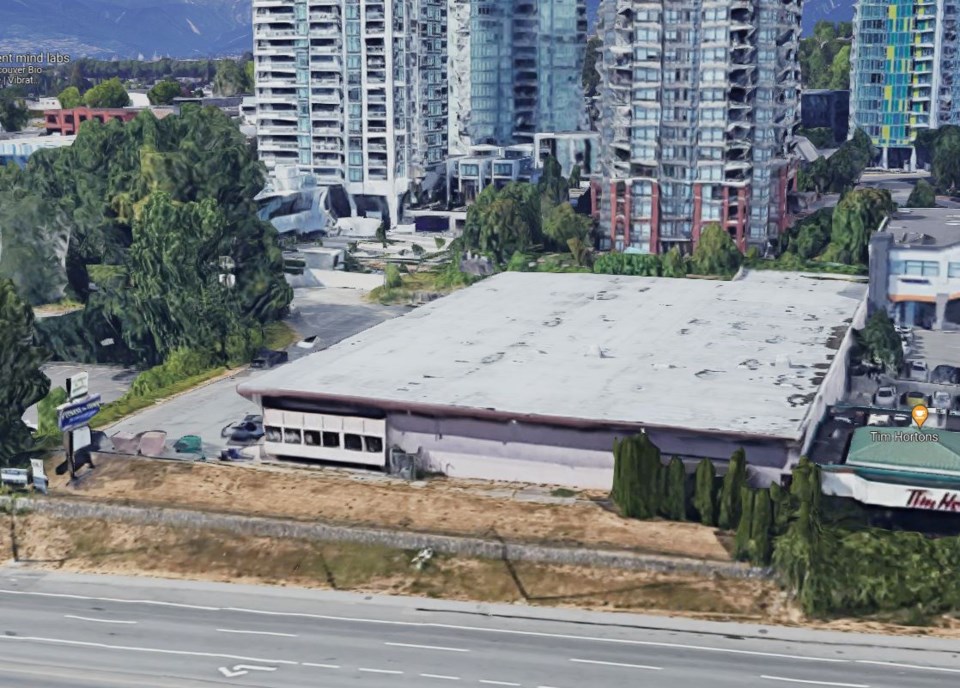 The warehouse and parking site at 4141 Lougheed Hwy. where a new development is proposed in Burnaby. By Google Maps
Currently on the site is an "older industrial warehouse building" and parking.
he report notes the development is planned with "an architecturally exceptional design that is sensitive to the surrounding and future development context," and notes the highrises are arranged in a checkerboard pattern to maximize building separation and access to natural light.
The developer proposes 634 residential parking spaces and 160 commercial parking spaces to be shared with visitor parking.
Bicycle parking includes 1,673 bike lockers for residents, 12 spaces for commercial patrons and 178 spaces in bike racks or a secure bike room for visitors.
Upgrades to Lougheed Highway are planned along with the development, including separated sidewalks, cycle facilities, rain gardens and a treed boulevard.
The development includes the closure of a lane abutting the property, as well as a portion of the highway, measuring about 6,611 square-feet total.
The report states both areas are "surplus to city transportation and infrastructure requirements" and are marked for closure. The city will bring forward a separate report with details on the sale of the land for council's approval at a later date. The approval of the land sale is a requirement for the development to proceed.
Building amenities would include co-working spaces and multi-purpose rooms, indoor children's play areas, kitchen and dining facilities, guest suites, fitness facilities and a swimming pool. Outdoor spaces on the ground level on the podium are also planned.
Burnaby Born and Bred, Let's chat
I'm a Burnaby local, born and raised, and I even graduated from SFU right here in our fantastic city. Let me put my local expertise to work for you. Whether you're a first-time buyer, upgrading, or investing, I can help you find the perfect place to call home.
Why not schedule a quick, no-commitment chat? Let's talk about your real estate goals and how I can make them a reality. Reach out, and let's make your dream home a reality!
Raymond Dich - Burnaby Realtor
(604) 803-8988 | info@raydich.com
4900 Lennox Ln #3808
Burnaby, BC V5J 0G9
Canada